Live Local with Restoration Yard's Krista Cook
In Live Local with… Midlothian and Scottish Borders locals share their favourite places, from restaurants and shops to walks, views and more. The series is about all the things – big and small – that make living and working in the area so special. Read on and join in with our communities. It may lead you to incredible hidden gems to explore on your next day out.
---
Krista is an assistant buyer at Restoration Yard in Dalkeith Country Park, a truly special place in Midlothian that's just a short drive from Scotland's capital Edinburgh. Restoration Yard houses an eclectic mix of Scottish, design-led, and quirky products in a renovated stableyard, with the box stalls now used to display lots of gorgeous products.
Visiting Restoration Yard is especially stunning around Christmas: Seasonal events like wreath making workshops, Santa's Grotto and lots of decorations around the store to make it feel especially festive. And don't forget to check out the amazing seasonal light show – Spectacle of Light.
American by birth, Krista has lived abroad in Luxembourg and Ireland but 11 years ago, Scotland stole her heart. 'This is by far my favourite place to live. The architectural beauty of places like Edinburgh as we all know is astounding, but I also love the fact that you can be walking in green hills, forests or on the beach within minutes. I especially love living in Midlothian as I'm lucky enough to live close to gorgeous parks and places to walk. And there are some wonderful restaurants and places to visit, too.'
Take it away, Krista. What are some of your favourite places in the area?
I have to start off by admitting that Dalkeith Country Park is my absolute favourite place. With the retail offering, dining at The Kitchen, Fort Douglas adventure playground and the Dalkeith Country Park walks, you can easily spend an entire day there, and many people – me included – do.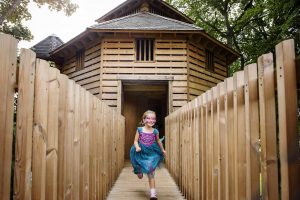 Dalkeith Country Park is a truly special place, home to Fort Douglas adventure playground and Restoration Yard Store, Restaurant & Wellbeing Lab.
---
The Secret Herb Garden
I also love The Secret Herb Garden at the base of the Pentlands. They are the creators of The Old Curiosity Gins. Hamish and his wife have created a very special place in their greenhouse, with tables and old sofas dotted around, and fresh teas and cakes available, too. It's definitely worth a visit.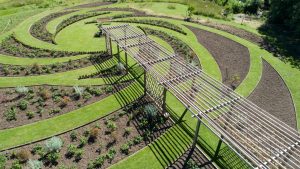 We are a specialist Herb Nursery nestled at the foot of the Pentland hills on the outskirts of Edinburgh.
---
Newbattle Abbey
Newbattle Abbey and the adjacent Lord Ancrum's Woods is just down the road from me – when I'm not at work I often take my dog Lucy for a jaunt around. The Abbey was originally a Cistercian Monastery founded over 800 years ago. The drive up to the building is magnificent and the gardens and green land behind is glorious on a sunny day.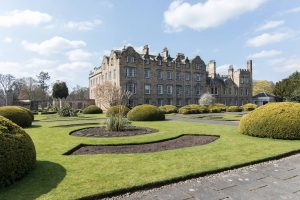 Originally a medieval Cistercian monastery, Newbattle Abbey has a 900-year history of welcoming guests royalty.
---
The Sun Inn
The Sun Inn is a local favourite for a special meal. The food is fantastic, and I know they've worked hard to adjust to the COVID situation while still offering customers delicious food.
Both an AA Pub of the Year and a Scottish Gastropub of the Year, The Sun Inn has a reputation for serving great beers and…
---
---
Do you have any favourite local hangouts or personal highlights in Midlothian and the Borders? Let us know what makes them feel like home for you!