Live Local with Marchmont House's Michelle de Bruin and Jo Crossland
In Live Local with… Midlothian and Scottish Borders locals share their favourite places, from restaurants and shops to walks, views and more. The series is about all the things – big and small – that make living and working in the area so special. Read on and join in with our communities. It may lead you to incredible hidden gems to explore on your next day out.
---
Michelle and Jo are two stone carvers working together in the Scottish Borders. Though their main carving workshop is located within the yard of local stone merchants Hutton Stone in West Fishwick, they also have a drawing studio at the newly formed Creative Spaces at Marchmont House.
Michelle made the Borders her home 30 years ago, after studying at Glasgow School of Art, while Jo joined her through a Historic Environment Scotland apprenticeship in Stone Carving six years ago. Both of them love the beauty of the countryside and the peace of this unspoilt and often overlooked part of Scotland. Additionally, the remote coastline of Northumberland and the Borders holds a special place in Jo's heart, inspiring her to make Berwick-upon-Tweed her home.
From their own sculpture to architectural carvings and commissions for memorials, gardens and public spaces, Michelle and Jo's work is incredibly varied. You can even spot some of it around the Borders! And in the future, there will be opportunities to discover the Creative Spaces at Marchmont House for those interested in a look behind the scenes.
Let us in on your secrets, Michelle and Jo. What are some of your favourite local places?
Edin's Hall Broch
We both love going for a long walk along the Whiteadder Water to Edin's Hall Broch and back to the village of Abbey Saint Bathans. Watch out, this is about a 3 hour round walk so give yourself time to get back to the Riverside Bakehouse! This beautiful wee cafe is sat on the banks of the river and serves the best chocolate cake ever!
Closed due to COVID-19. Visit a rare example of a Lowland broch – a uniquely Scottish fortification, usually found only in the north.
---
Eyemouth
We spent a wonderful week carving the story of local hero fisherman Willie Spears around the plinth of his statue in the centre of Eyemouth. Our favourite things to do in the town is to walk around the harbour, admiring the beautiful fishing boats, and visiting two of the best small museums, Eyemouth Museum and Gunsgreen House. We then like to finish our day out with fish and chips from Mackays and an ice-cream sundae from Giaccopazzi's!
Eyemouth Harbour is a charming working harbour with many local seals, a great location for some fish & chips or ice cream with the family!
---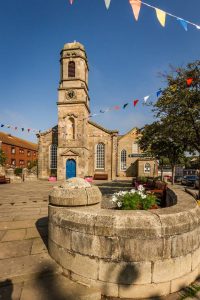 Eyemouth Museum is the home of local stories and artefacts!
---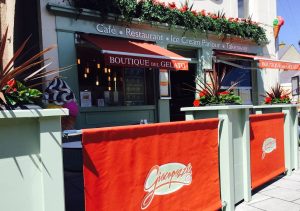 Original Award winning Ice Cream Parlour, Fish & Chip Restaurant, Takeaway and Cafe located on the harbourside in Eyemouth.
---
Paxton House
Very close to where we work is the famous Union Chain Bridge, spanning Scotland and England. Though the bridge is currently undergoing restoration, you can walk along the River Tweed to Paxton House, keeping an eye out for Otters and Seals along the way. Once at Paxton you can sit and have a cream tea in the Old Stables Tea Room.
Paxton House is a Georgian mansion overlooking the River Tweed set in 80 acres of grounds on the border of England and Scotland 4 miles…
---
The Waterloo Monument
If you park at Harestanes, you can walk up through lovely oak woodlands to the Waterloo Monument which boasts amazing 360 degrees views of the Scottish Borders. Before you leave, make sure you also pay a visit to the Real Wood Studios at Monteviot Nurseries. They have a great gallery and shop with locally made wooden furniture and products.
Park at Harestanes Visitor Centre and follow the Peniel Heugh walk to reach the Monument
---
Coldingham
Pay a visit to Coldingham Priory where you can walk down to the community gardens to find a couple of Michelle's carvings. You can also look up to the east and west faces of the ruined priory to see freshly carved replacement capitals carved by Jo, before making your way down to famous Coldingham Bay. A walk along the beach from Coldingham to St Abbs is a must, finished off with a pint and food at The New Inn in Coldingham.
Coldingham is a historical village known for it's beauty, situated in the East coast of the Scottish Borders.
---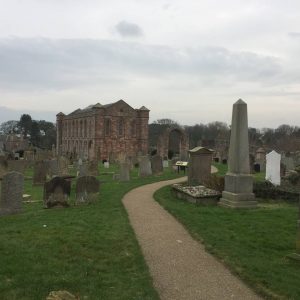 Coldingham Priory was a house of Benedictine monks
---
Stobo Castle Health Spa
Every year, we treat each other to a day out at the luxury spa at Stobo. This is stunningly situated in a Scottish castle high up in the hills near Peebles, and is a perfect chance to relax and admire the scenery outside.
The magnificent Scottish Castle is set deep within the Scottish Borders countryside in private grounds and surrounded by vast pine forests and a tranquil lake.
---
Do you have any favourite spots or personal highlights in Midlothian and the Borders? Let us know the places that make the area feel like home for you!